About The Breed
About Our Kennel
Luna Ray Boxers
We are hobby breeders specializing in the European – original type boxers. We have a variety of healthy boxer puppies and dogs and are sure that you will find one you have been looking for.



Quality European Standard Boxers

Luna Ray Boxers is committed to breeding boxers with European character traits and more specifically according to European standards.




Dedicated To Bettering the Boxer Dog Breeds

We are honest and dedicated to bettering the Boxer dog breed and provide pet lovers with a true companion they are looking for.




Promising Healthy Puppies Every time

We do everything we can to deliver you healthy puppies that are playful and can be easily trained at home.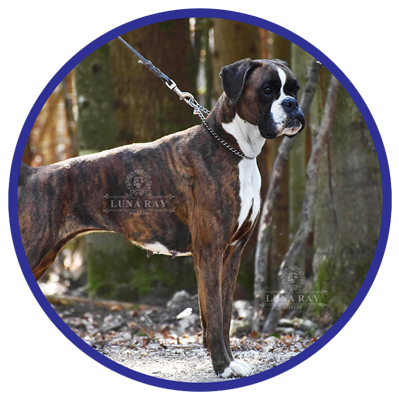 About the
Boxer
Boxers are friendly, lively companions that are popular as family dogs. Their suspicion of strangers, alertness, agility, and strength make them formidable guard dogs. As puppies, Boxers demonstrate a fascinating combination of mood-mirroring expressions, energetic curiosity, flexible attention spans and charming characteristics. These strong and intelligent animals have also been used as service dogs, guide dogs for the blind, therapy dogs, police dogs in K9 units, and occasionally herding cattle or sheep. The versatility of Boxers was recognized early on by the military, which has used them as valuable messenger dogs, pack carriers, and attack and guard dogs in times of war.
About the
Black Boxer
The Boxer dog does not carry the gene for a black coat color. There are two coat colors for the Boxer dog, fawn and brindle. "Brindle" refers to a dog with black stripes on a fawn background. Brindle is actually a striping pattern, not a color – all brindle dogs have a fawn ground color. However, there are some very dark reverse brindle Boxers that appear to be black but what they have are dark brindle coats that have so many dark brindle stripes that it appears to make the coat completely black. It is not really a black dog; the dog just has an excessive number of black stripes. Some of these brindles may end up with such a great amount of black striping that it can be quite difficult to find the fawn under-color. These Boxers are sometimes said to have "reverse brindling", fawn stripes on a black body; these dogs are conventionally called "reverse brindles", but that is actually a misnomer—they are still fawn dogs with black stripes.